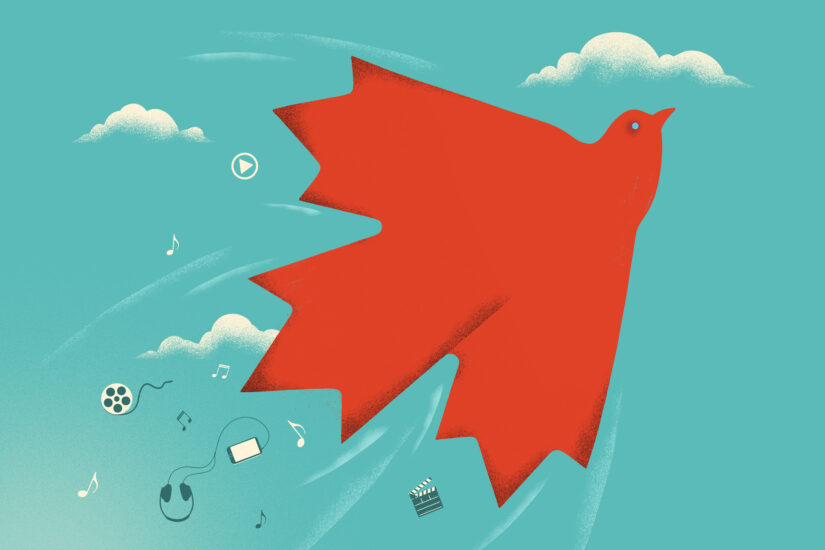 Illustration © Sébastien Thibault
On February 2nd, 2022, Canadian Heritage Minister Pablo Rodriguez introduced a bill that the cultural community has been anticipating for many years: the Online Streaming Act (Bill C-11).
en intro c11
What is Bill C-11?
Bill C-11 seeks to ensure that large online broadcasting companies contribute their fair share to cultural ecosystems. This bill corrects years of glaring inequities by ensuring that the Broadcasting Act applies to online broadcasting giants and businesses in the digital environment.
Why does C-11 matter?
The Broadcasting Act, which will be modernized by this bill, is one of the most important cultural policies in Canada. It ensures that Canadian creations and productions have a prominent place on our airwaves and on our screens, and that the companies generating revenues from access to culture in the music and audiovisual sectors contribute to their creation, development and distribution.
Canadians are increasingly accessing culture through online platforms. Much of the broadcasting ecosystem is transitioning to digital content. This has a number of benefits for the public and for creators: increased access to a variety of stories, music and ideas, increased opportunities for creators to launch their work, and renewed ability to reach audiences in Canada and around the world…
Many large corporations take advantage of this digital age without any obligation to contribute.  Artists, creators, producers, publishers and other professionals of the music and audiovisual industries, as well as for Canadian society, do not reap the potential benefits of investment in the Canadian cultural ecosystem. C-11 was introduced to correct this unfairness.
How do Canadians engage with content in the digital age?
Music streaming platforms offer vast catalogs of approximately 70 million songs, excerpts, and other content. These platforms offer curation: they offer their customers music that matches their tastes through playlists, recommendations, and other forms of targeted strategies.
On YouTube (the platform most used by users in Canada to access music), 80% of listening is related to these types of recommendations.
With that in mind, Canadian artists, creators, and musicians work each day to ensure that their music and content are included in these recommendations. In other words, in order to be heard, Canadian artists must be recommended.
Who decides what will be recommended to people? How does it work?
Much of the showcasing, recommending, and curating is done using various tools (algorithmic, editorial, "algotorial"), based on criteria determined by the online broadcasting platforms.
Many experts have called for more transparency and information to better understand the work of these algorithms and their results. Research to date has uncovered some data points:
On YouTube, 64% of recommendations go to content that already has more than 1 million views, and only 5% of these recommendations highlight content that has been viewed less than 50,000 times.
On Spotify, the major labels' (Universal Music Group, Sony Music Entertainment and Warner Music Group) catalogs provide 85% of the songs, but also 90% of the songs included in the playlists.
What does this mean for independent artists?
When online platforms prioritise content based solely on their economic interests, independent and emerging artists suffer. Thus, independent Canadian content creators are poorly heard and paid when their work is online.
Royalties from traditional and digital media indicate there is a significant disconnect between online companies' efforts to showcase local content and those of traditional media:
Canadian music creators earn 34% of traditional media royalties, but 10% of digital media royalties.
For French-speaking songwriters, the royalty share for digital media is only 2%.
The issue of recommendation is all the more important because creators and rights holders are largely underpaid in the current digital model.
In short, online streaming services recommend content based on their own interest, rather than content from independent and local artists and creators. C-11 must ensure that these platforms contribute to the success of Canadian artists and creators.
C-11 will allow Canadian creators to better reach their audiences, which will allow them to generate more revenue and reach more people here and abroad.
What have online streaming services meant for Canadian audiovisual creators?
In the audiovisual sector, content, such as films and television shows, are exclusive. In other words, those companies which have the rights to broadcast a given show or movie can differentiate from their competitors thanks to their catalog.
Many Canadians are now choosing to subscribe to foreign audiovisual platforms with large catalogs of films and shows, such as Netflix, Amazon Prime and Disney+.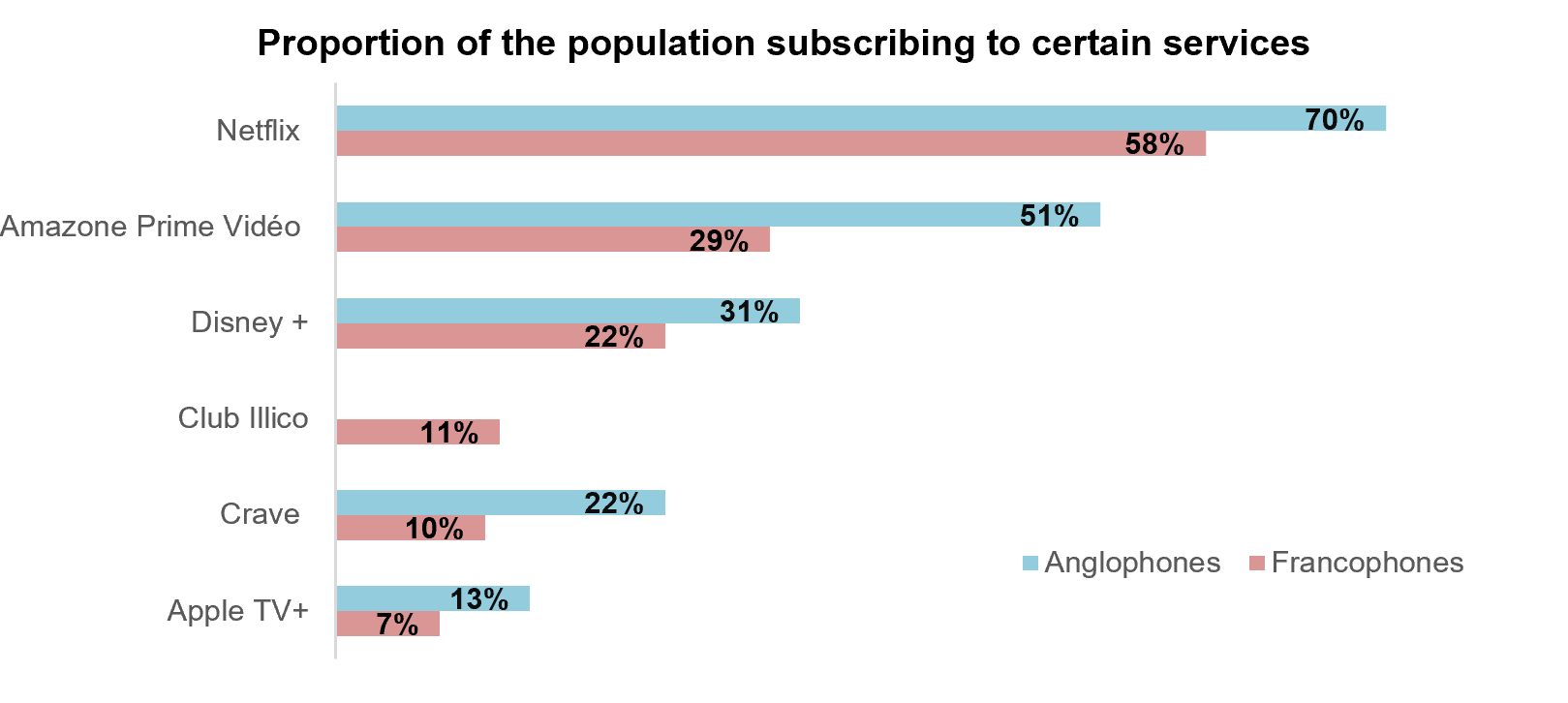 Source : MTM data for 2021 (other surveys indicate that the Tout.tv subscription proposition would be similar to that of Illico)
However, national productions are almost non-existent on these platforms.
Why don't online broadcasters prioritize Canadian content?
Unlike traditional broadcasters of film, television, and music, online broadcasters have no legal obligation to invest in Canadian content and, as a matter of fact, they invest little in Canadian content, and especially in French-language content.
For example, the Association des réalisateurs et des réalisatrices du Québec estimates that only 0.3% of the $2.5 billion invested since 2017 in Canada by Netflix has been for original French-language productions.
What does this mean for Canadian creators and content?
According to the MTM data for 2021, the subscription rate for online viewing services (77%) has surpassed the subscription rate for traditional television services (70%), which has been declining since 2012.
This decrease results in lost revenues for companies that distribute broadcasting, such as cable companies, and consequently in their contributions to funds that support Canadian programming, such as the Canada Media Fund or the Certified Independent Production Funds that support the production of Canadian content.
Advertising revenues for private television companies are also declining:
As the funds available for Canadian productions decrease, Canadian programs are competing with foreign series, some with budgets of $10 million per episode!
Average budget for a Canadian English-language fiction program (1 hour): $2,227,000
Average budget for a French-language fiction program (1 hour): $546,000!
Despite an increase in domestic production volumes, Canadian independent productions now represent only 31% of total production.
C-11 will require online broadcasters to invest in the creation and production of Canadian content. It will also increase the availability of Canadian content on foreign platforms and thereby offer greater choice to Canadian audiences.
Cultural life is a right and it is essential
We realize more than ever the importance of culture in our lives. From an individual point of view, cultural expressions are sources of inspiration, learning, reflection, emotions, and entertainment. From a collective point of view, they tell our history, initiate dialogues, forge identities, and contribute to living together in peace and harmony.
The UNESCO Convention on the Protection and Promotion of the Diversity of Cultural Expressions was created in 2005 to recognize this contribution and the value of diversity in a context of globalization. It promotes, for individuals and social groups, "access to diverse cultural expressions from their territory as well as from other countries of the world".
For there to be a diversity of cultural expressions, communities around the world must protect their ability to create and disseminate their own works. This is why cultural policies such as that for broadcasting, which have fostered cultural ecosystems for generations, must be modernized to preserve the diversity of our cultures, and avoid an international monoculture.
This concern is not divorced from reality: 78% of Canadians place personal importance on Canadian-made content.
C-11 will better showcase local and national content so that everyone has greater access to cultural expressions that reflect Canada's diversity.
Culture is also an engine of the economy
Culture in Canada is a sector that accounted for more than 655,000 jobs in 2018, far ahead of the agriculture, the natural resource extraction, oil and gas, utilities and automotive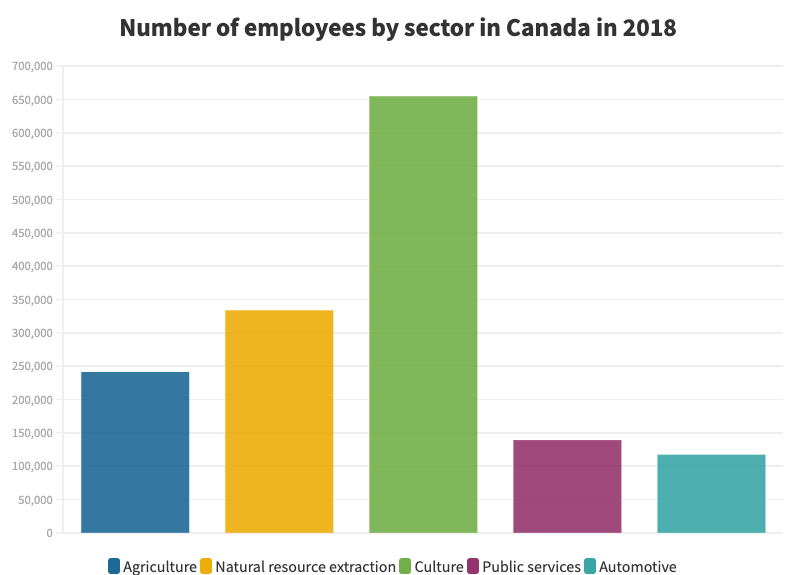 Culture GDP exceeded $57 billion in 2019, or 2.7% of Canadian GDP.
But the industry has been greatly disrupted by the health crisis:
According to Canadian Heritage, C-11 would inject an additional $830 million per year into the music and audiovisual sectors.
For years, the web giants have been getting rich in Canada without contributing to our culture. It's time to end this injustice and defend our culture.
It's time to stand up for C-11.