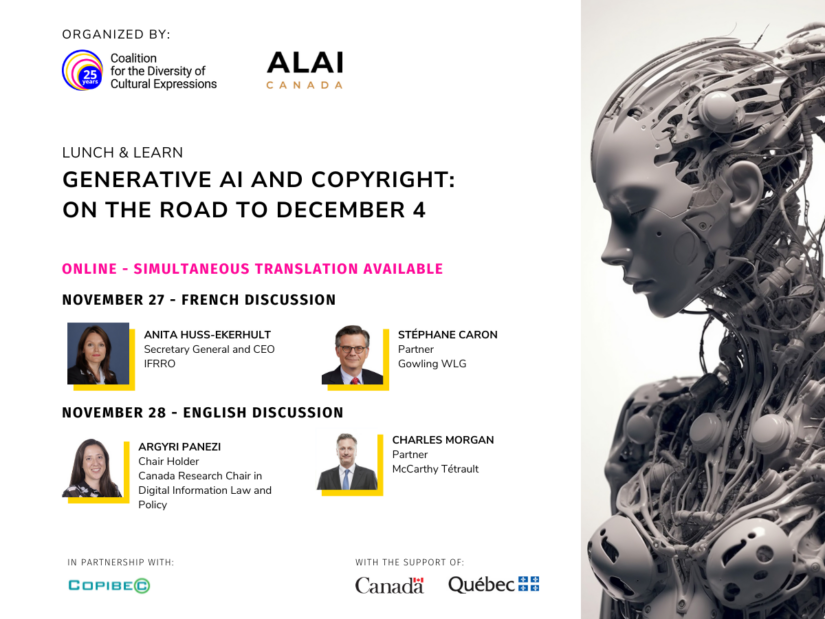 On November 27 and 28 at noon, the CDCE and ALAI invite you to reflect on the consultation currently being conducted by the Government of Canada on the implications of generative artificial intelligence for copyright. The two lunch & learn will take place online, and will address the main themes of this consultation:
the use of copyright-protected works in the training of AI systems;
authorship and ownership rights related to AI-generated content; and
liability, especially when AI-generated content could infringe existing copyright-protected works.
For each lunchtime conference, an expert and a lawyer specialized in copyright law will discuss these issues. The aim of these two conferences is to contribute to the reflections led by the cultural sector in the wake of the consultation, so don't miss this opportunity to be inspired in your reflections.
One conference will be held in French, the other in English. Simultaneous translation will be available for both.
Fee: $25 per conference for CDCE members
NOVEMBER 27 – French DISCUSSION
Panelists
Anita Huss-Ekerhult, Secretary General and CEO, IFRRO
Anita Huss-Ekerhult became CEO and Secretary General of IFRRO on October 1, 2023.

Ms. Huss-Ekerhult has a law background with nearly 20 years of experience in copyright and related rights management.

Between November 2015 and September 2023, Ms. Huss-Ekerhult has worked as Counsellor in the Copyright Management Division of the World Intellectual Property Organisation (WIPO), a specialized agency of the United Nations in Geneva. At WIPO, Ms. Huss-Ekerhult served as team leader of the rights management team within the Copyright Management Division, with global responsibility for WIPO's legislative and regulatory advice in the area of copyright and related rights management, as well as for capacity-building programs and technical assistance worldwide.

Prior to her work at WIPO, Ms. Huss-Ekerhult served as IFRRO Deputy Secretary General and General Counsel from 2008 until 2015. In addition to that, Ms. Huss-Ekerhult also has several years of experience at major international law firms in Belgium, Germany and Sweden.
Stéphane Caron, Partner, Gowling WLG
Stéphane Caron is a partner at Gowling WLG, where he works in the field of intellectual property protection. His practice focuses in particular on copyright, trademarks, and personality rights. He provides strategic advice on contentious and non-contentious matters to a wide range of clients operating in traditional and cutting-edge sectors. Stéphane has extensive experience providing advice on copyright policies and related regulatory issues. In addition to co-chairing the American Bar Association's Committee on International Copyright Laws, he also co-chairs the Ottawa chapter of the Copyright Society. He represents his clients before federal and provincial courts.
Moderator
Ysolde Gendreau, Full Professor, Faculty of Law, Université de Montréal
Graduated from McGill University (B.C.L., LL.B., LL.M.) and the Université de Paris 2 (doctorat en droit). Professsor at the Faculty of Law of the Université de Montréal. She has also taught for universities elsewhere (Canada, France, United States, Australia). Focused on copyright law, especially comparative and international issues, and on international IP relations. Responsible for the Canadian chapter of International Copyright Law and Practice, then edited by Paul Geller, from 1999 to 2013. Member of the Patented Medicine Prices Review Board (1995-2000), president of ATRIP (Association for the Advancement of Teaching and Research in Intellectual Property) (2003-2005), and president of the Canadian group of ALAI (Association littéraire et artistique internationale) (2006-2011). Scientific organiser of the 2018 international ALAI congress in Montreal. Vice-president of ALAI and associate member of the International Academy of Comparative Law. Her Research Handbook on Moral Rights and Intellectual Property (with Edward Elgar) has come out this fall (32 international contributors).
*After clicking on Register, select, I am not a member, then the $25 fee MEMBERS OF ALAI AND AJAVA and enter CDCE in the Name of your national or international group.
NOVEMBER 28 – ENGLISH DISCUSSION
Panelists
Argyri Panezi, Chair Holder, Canada Research Chair in Digital Information Law and Policy
Dr. Panezi joined UNB Faculty of Law in 2023, after being awarded the Canada Research Chair in Digital Information Law and Policy (Tier 2). She holds a law degree from the University of Athens, an LL.M. from Harvard Law School and a Ph.D. from the European University Institute. Argyri's research explores the effects that disruptive technologies have on citizens, institutions and the law. She has been writing about legal challenges associated with the digital transformation of cultural heritage institutions, focusing predominantly on copyright law, the digital transformation of justice institutions, Law and AI and about privacy challenges in the Web3 era. At UNB Law she directs the recently established Legal Innovation Laboratory. Together with her research team, she studies participatory policy-making methods in e-justice design to enhance access to justice for underserved communities, especially in remote and rural areas. They are exploring how to resolve some of the tensions that are arising from the digitization of justice systems, such as privacy, security and accessibility.
Charles Morgan, Partner, McCarthy Tétrault
Charles Morgan is the national co-leader of McCarthy Tétrault's Cyber/Data group, former leader of the firm's Technology Law group and Past President of the International Technology Law Association. He is a recognized thought-leader on the responsible deployment of artificial intelligence. Morgan' practice takes a 360-degree approach to data, helping clients extract the tremendous value inherent in data, while at the same time managing the associated risks. Morgan regularly serves as breach coach for clients in matters of enterprise-wide risk, including three of the largest cyber incidents in Canadian history. Morgan' practice is focused on advising many of McCarthy's largest clients on their most complex commercial transactions involving IT outsourcing, systems integration, cloud, financial technologies, cybersecurity, data monetization, privacy, AI, licensing, e-commerce, and telecommunications. Co-author of several books, including Responsible AI: A Global Policy Framework (ITechLaw, 2019), Technology Governance in a Time of Crisis (Human Technology Foundation, 2020), Responsible AI: A Global Policy Framework (2021 Update), The EU AIA: A Greenpaper Policy Analysis (2022) and Artificial Intelligence, Law Over Borders Comparative Guide 2022.
Moderator
Erin Finlay, Partner,

Stohn Hay

Cafazzo

Dembroski

Heim Finlay

LLP, Toronto
Erin is a partner with Stohn Hay Cafazzo Dembroski Heim Finlay LLP where she practices in the areas of entertainment law, copyright, privacy, broadcast regulatory and cultural policy. She provides a wide range of legal services and strategic direction to producers, artists, musicians, authors, publishers, trade associations, copyright collectives and cultural businesses in the development, production, exploitation and protection of film, television, publishing, music and digital media projects.

Erin has led the negotiation, drafting, and enforcement of multi-party collective licences, directed complex copyright tariff and CRTC broadcast regulatory and policy proceedings, and has appeared numerous times before the Copyright Board of Canada, the CRTC, the Federal Court of Appeal, the Supreme Court of Canada and the House of Commons Standing Committees on Canadian Heritage and Industry Canada, as well as the Senate of Canada. Her expertise spans a range of legal, policy and government relations experience in the music, film and television production and publishing industries.

Before joining the firm, Erin was the Chief Legal Officer at the Canadian Media Producers Association (CMPA), General Counsel and Director of Government Relations at Access Copyright and an associate practicing in the entertainment law group at Cassels Brock. With more than 15 years' experience as both in-house counsel and in private practice, she brings a practical perspective to resolving complex issues and advocating for her clients in Canada's creative industries.
*After clicking on Register, select, I am not a member, then the $25 fee MEMBERS OF ALAI AND AJAVA and enter CDCE in the Name of your national or international group.
Thanks to our partner Copibec, and to the governments of Canada and Quebec for their support.
Generative AI and copyright: on the road to December 4
CDCE activity
November 27th, 28th - 12pm
Online