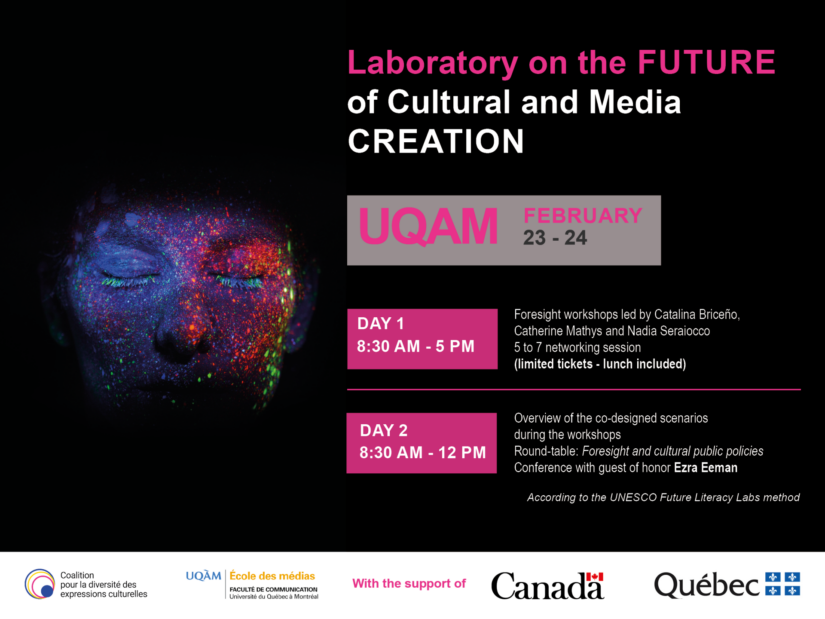 Held on February 23-24 at UQAM (Pavillon Judith-Jasmin), the Laboratoire sur les futurs de la création culturelle et médiatique, organized by the Coalition for the Diversity of Cultural Expressions (CDCE) and the École des médias de l'UQAM, is an event that brings together students, researchers from different disciplines, creators and professionals from the cultural and media sectors in French in Canada.
In a context of perpetual change, the ability to imagine the future becomes an essential skill. The goal of these days is to equip the cultural and media sector to better face change through workshops inspired by UNESCO's Future Literacy Labs method.
This event is intended for :
Cultural managers and workers
Creators
Researchers/ Students in production, cultural and media studies
*Participants to the workshop day must be able to express themselves in French
Schedule
Thursday, February 23 – in person (Active participation, limited space)
8:30am – 5pm: Foresight workshops led by Catalina Briceño, Catherine Mathys and Nadia Seraiocco (lunch included)
5pm – 7pm: Networking event
Friday, February 24 – face-to-face (videoconference to be confirmed)
Ms. Catalina Briceño, Professor, École des médias de l'UQAM
Mr. Gilles Fontaine, Head of Market Information Department, European Audiovisual Observatory
Mr. Simon Robertson, Interim Director of Futures Research, Policy Horizons Canada
9:15am – 10:15am: Presentation of the scenarios co-constructed during the workshops
Moderated by Catherine Mathys, guest professor at the École des médias de l'UQAM
During this panel, the public will hear the report and the three desirable scenarios of the experience conducted during the previous day's workshops on the future of cultural and media creation.
10:30 – 11:30: Round table "Foresight at the service of cultural public policies"
Simon Brault, Director and CEO, Canada Council for the Arts, and President of IFACCA
Louise Lantagne, President and CEO, SODEC (Société de développement des entreprises culturelles du Québec)
Monika Ille, Chief Executive Officer, APTN (Aboriginal People Television Network)
Simon Robertson, Acting Director of Futures Research, Policy Horizons Canada
Monique Simard, Member of the Yale Committee that preceded the legislative review of the broadcasting laws.
Moderated by Catalina Briceño, professor at the École des médias of UQAM
The ultra-fast evolution of the context, practices and tools of cultural and media creation provokes important reflections on the role of our institutions in the elaboration and implementation of cultural policies and influences the effectiveness of cultural support mechanisms. In the establishment of rules, laws, policies or funding mechanisms, how can we anticipate changes without turning existing models upside down? How can we better prepare for plausible futures and, above all, how can we better ensure the full participation and representation of all cultural sectors in shaping this collective future? Five experts will share their perspectives on this topic.
11:30 – 12:15 : Lecture by Ezra Eeman, Director of Change at the European media group Mediahuis (in english)
How to anticipate possible futures in the cultural and creative industries? Taking into account existing systems, human capabilities and technological developments, how can we anticipate future opportunities now? To answer these questions, we will have the honor to speak with Ezra Eeman.
12:15-12:30 pm: Question period and closing remarks
Rates
2-day passport – Active participation in workshops, limited seating: $100*
*Price includes lunch and access to the cocktail
1-day passport (February 24 conferences only): $30
Photo Credit : © H. Heyerlein
Laboratory on the future of cultural and media creation: Program and Ticketing
CDCE activity
February 23,24
Pavillon Judith-Jasmin (J)
405, rue Sainte-Catherine Est, Montréal, H2L 2C4