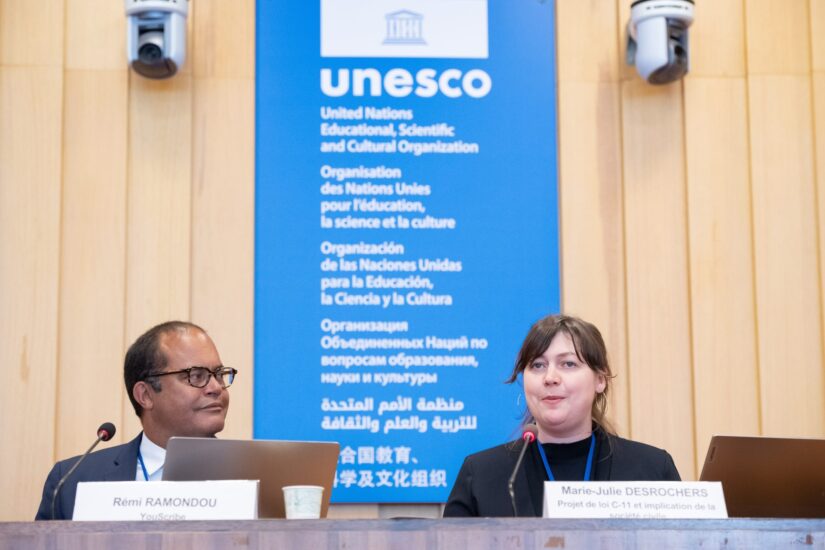 Photo © Cyril Bailleul/Unesco
From June 6 to 8, the Canadian Coalition for the Diversity of Cultural Expressions (CDCE) took part in the Conference of the Parties at UNESCO, where it put forward its priorities, arguing in particular for an appropriate framework for the digital environment, including artificial intelligence. The CDCE welcomes the announcement of the creation of a committee of international experts whose mission will be to carry out an in-depth reflection on the implementation of the Convention in the digital environment, the first meeting of which will be held in Quebec City, in the spring of 2024. The CDCE is already working with the governments of Quebec and Canada to involve the cultural community in this event.
The themes identified as priorities for this group of experts include :
promoting the linguistic diversity of cultural content;
the discoverability of national and local cultural content;
the importance of increased and meaningful transparency of digital platforms around cultural issues (notably artistic freedom); and
the impact of artificial intelligence on the diversity of cultural expression.
The CDCE also highlights Canada's election to the Intergovernmental Committee of the UNESCO Convention on the Protection and Promotion of the Diversity of Cultural Expressions for a four-year term.
"We are delighted to see that the governments of Québec and Canada are acting as leaders on the international scene in protecting and promoting the diversity of cultural expressions, particularly in the digital environment. This must continue: the impacts of the development of artificial intelligence are already significant, and we must act quickly, both nationally and internationally", declared Bill Skolnik, Co-Chairman of the CDCE.
Finally, CDCE Executive Director, Marie-Julie Desrochers. took part in a panel discussion organized by France, Korea, Canada and Quebec on the theme of discoverability of local content online. In particular, she spoke of the importance of providing the cultural community with spaces for consultation and mobilization when states legislate to protect their cultural sovereignty.
COP 9: CDCE welcomes the creation of an expert group on the digital environment
Press release
CDCE
23 June 2023
Unesco